Brook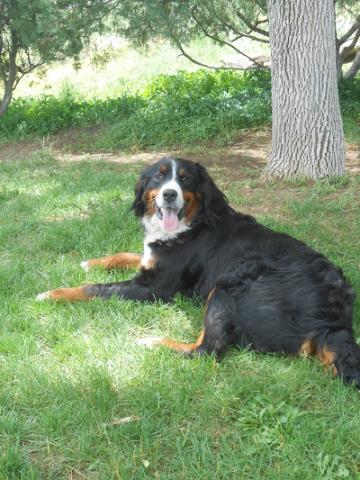 Cedar Creek's Moonlit Brook
D.O.B. 5/30/2011
AKC Registration # WS37628808
Berner-Garde # 132469
Retired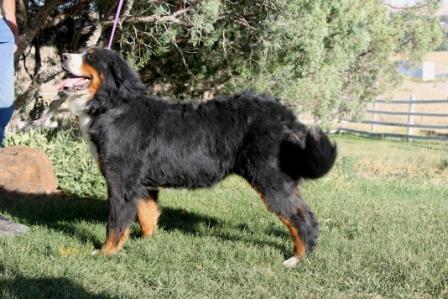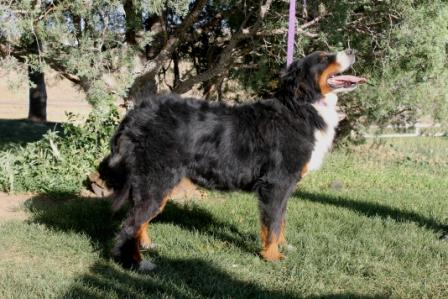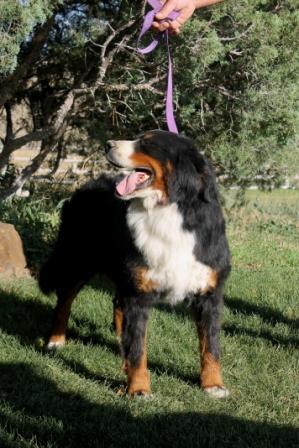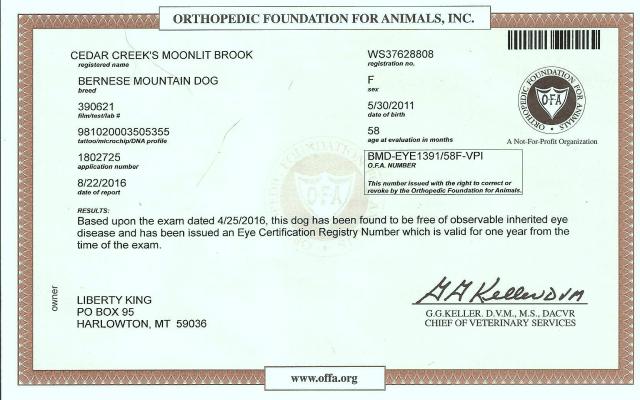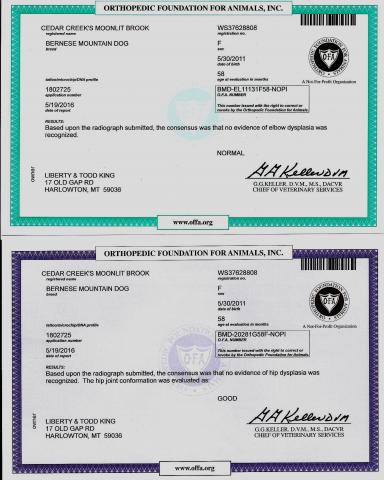 Big Sky's Breezy Day
D.O.B. 4/3/2015
AKC Registration # WS49901606
Berner-Garde # 145185


Madison
Big Sky's Madison River
D.O.B. 10/14/2016
A.K.C. Registration # WS55060102
Berner-Garde # 145972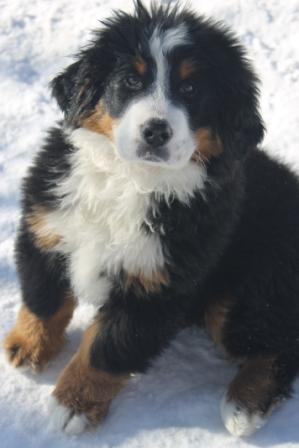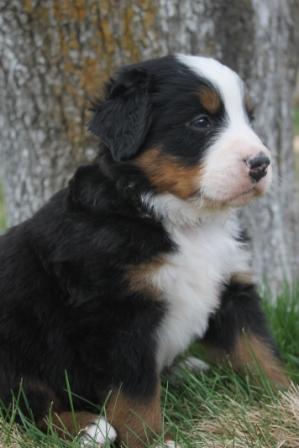 Breezy's sire: Mr. Beaux Jangles of
           Jawbone Creek
Breezy's dam: Cedar Creek's Moonlit
           Brook
Spayed & Retired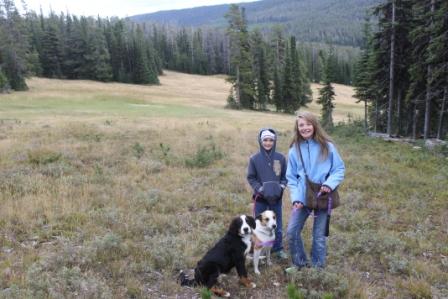 Breezy with family at Showdown Montana.
Labor Day 2015
Madison's dam: Cedar Creek's Moonlit Brook
Madison's sire: Disaronno V.'T   Rijenspark (Netherlands)  A.K.A. 'Archie' 406 Berners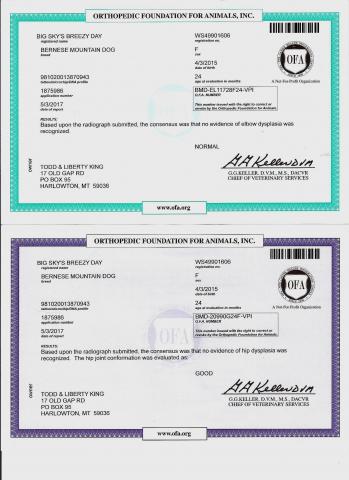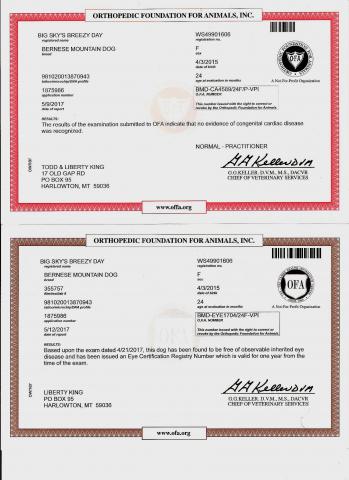 Breezy's Health Screens
Hips - Good
Elbows - Normal
Eyes - Clear
Heart - Normal
DM General Type -Carrier
(Carrier not at risk for onset of DM)
DM BMD Type - Clear
VWD - Clear
See OFA Certs Below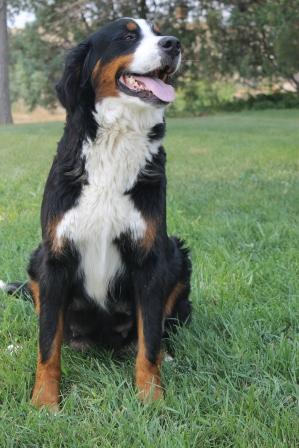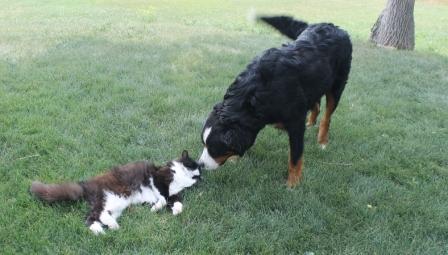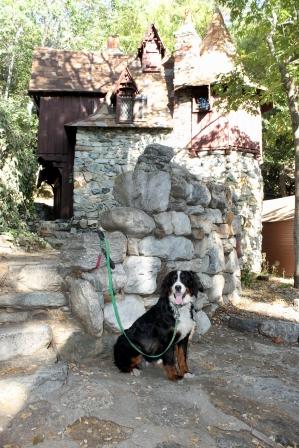 Madison is one of our 1st generation pups born and raised with us, and our very 1st Berner to have direct European lineage. Madison is very submissive by nature, easy going and a total joy to travel with. She's always eager to make new friends with her happy & inquisitive personality. Some of her excited vocal expressions sound more like Chewbacca than a bark!
Health Screens:
Hips - OFA (Preliminary) Good
Elbows - OFA (Preliminary) Normal
DM - Clear (general & BMD type)
VWD - Clear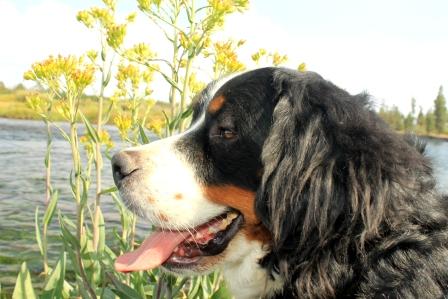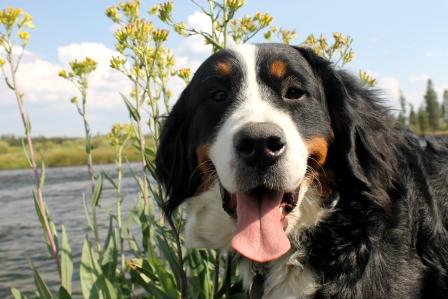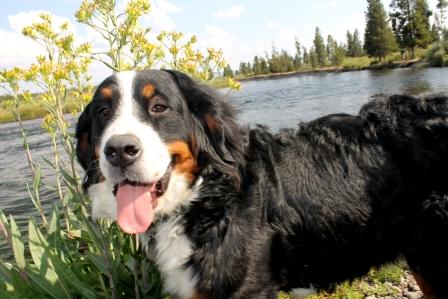 Madison & the Gingerbread House
(Our Barrett Canyon Neighbor)
Mt. Baldy, CA 
Madison standing along the banks of the Madison River (her namesake) on the outskirts of Yellowstone National Park, our very favorite place of all! 
Coincidentally, that special afternoon along the Madison River, we unknowingly ran into the veterinarian who saved Madison's life back in May 2017! It made for an extraordinary moment that we will always remember!
When Madison was a 6 month old puppy, she swallowed a rope toy, which became lodged in her small intestine. Our local veterinarian here in Harlowton was out of town, so we rushed Madison to Cottonwood Veterinary Clinic in Bozeman, MT. We were relived when they identified the problem with an x-ray, and quickly took Madison into surgery to remove the foreign object. We were so relived that the problem was identified and could be fixed! Long story short, Madison began to crash the next night after we brought her home. She was seizing, going into shock, and we were doing everything we could to keep her hanging on. My father (a retired veterinarian) who was assisting us at home said Madison's only chance will be if we get her back to Cottonwood Clinic A.S.A.F.P.! When Madison came back into Dr. Jakob's veterinary office, she was barely clinging to life...Dr. Jakob wasn't sure she was strong enough to survive a 2nd surgery, but he was willing to try. We couldn't give up as long as Madison had a heart beat! Bracing for the worst, but trying to dream of the best outcome, Madison went back into surgery....It was a tearful and sleepless night that night, waiting for the 8 am phone call with Madison's update.....Low and behold, Madison made it!!!!!!!!! As we teared up, our teenage daughter said, "Now I know what it means to cry tears of joy"...
We can't thank Dr. Jakob's and his team at Cottonwood Clinic enough for saving our Madison. We are especially appreciative to his son, who stayed with Madison all night, to check on her fluids and make sure she was okay (even though they aren't a 24 hour emergency clinic). Everybody's efforts were above and beyond and that's why she's still with us here today. 
After the rope toy incident my dad said, "In all my years working as a veterinarian, I never saw a dog that close to death that didn't actually die".
From that day forward, Madison earned the nickname 'Miracle Madison'!
Navigating through those frantic days, when everything was touch and go, who knew that one day in the future we would run into the vet that saved her life, and of all places, it would be along the mighty Madison River!!! It was one of those moments where you pause, wonder, and give thanks.....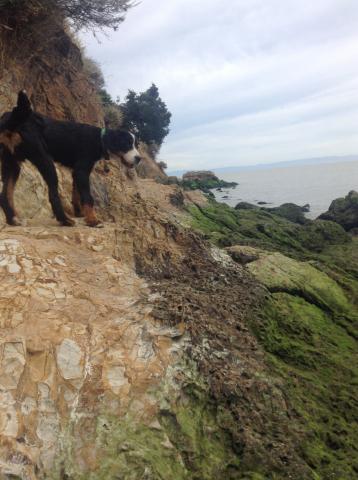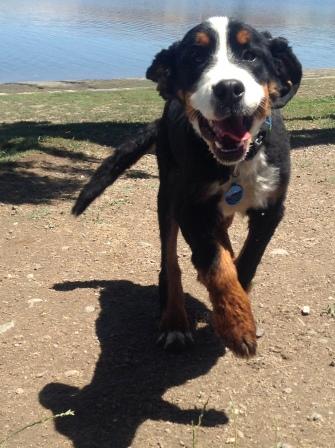 Miracle Madison's Road Trip to Recovery! 
June 2017
Pictured Above- Madison cooling off at a dog park in Reno, Nevada 
Pictured Below - Madison meets the Pacific Ocean! Camping out in San Francisco Bay -
China Beach State Park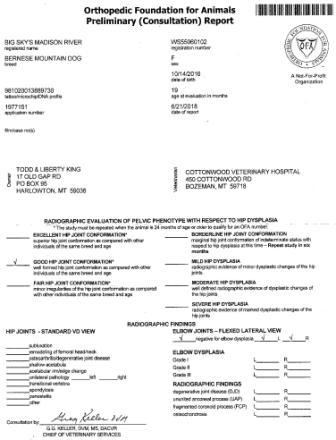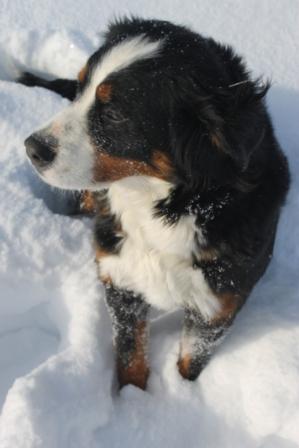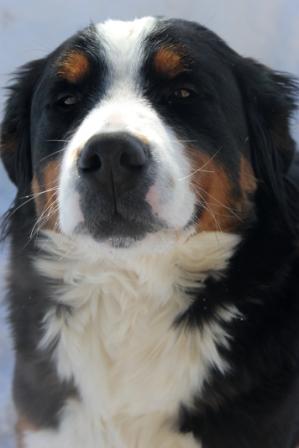 Breezy is the 1st Bernese we selected to keep as our own. She's whelped from our 1st Berners and represents the 1st generation here at our home.
Breezy is very dear and special to us. We like to joke around that she's our 'easy, breezy, beautiful, Berner Girl!'
Breezy is very athletic. She's leaner than our other Bernese Mountain Dogs. She has lengthy legs and very easily handles deep snow and hikes without tiring! Breezy's hair coat is slightly shorter than our other Berners too (but just as thick). Breezy is our alpha dog of the pack. She walks with confidence, but will just melt in your arms when you give her a belly rub!
Brook is the 1st female Bernese Mountain Dog we've ever owned. We adopted her at 8 weeks old to be a companion to our dear Beaux and our growing family! Brook has become the proud matriarch here. We have two of her daughters (Breezy & Madison) and now two grand-daughters, Reign & Scout! Brook is 7 1/2 years old and she hasn't slowed down a bit! Brook is extremely affectionate, and she too LOVES the belly rubs! Brook always wants to be at your side and looks at you adoringly all day long! She is so eager to please! She stays close to the kids and close to home. We never have to worry about her running off. Brook has the maternal instinct though, and she'll let us know if someone approaches the home with deep barks of warning! 
Brook's Health Screens
Hips - Good
Elbows - Normal
Eyes - Clear
DM General Type - Carrier
(Carriers not at risk for onset)
DM BMD Type - Clear
VWD - Clear
See OFA Certificates Below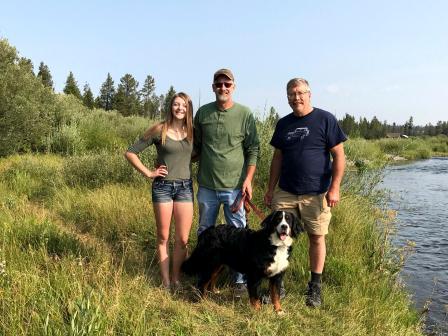 Pictured Above - Sage, Todd, Dr. Jakob, & Madison on the banks of the Madison River! That August afternoon will always be treasured in our hearts! Madison is a living testament to never give up, even when things are dire....

We have 3 adolescent AKC Bernese Mountain Dog females that are part of our future here with Big Sky Berners. Two of the offspring were whelped right inside our home, Big Sky's Winter Reign (Feb 2018) and Big Sky's River Scout (Nov 2018), and they are paving the way for our up and coming 2nd generation Bernese. The 3rd Berner girl arrived here recently from Clinton, Montana. We aptly named her Big Sky's Swiss Missy (Jan 2019). We look forward to updating their pictures and test results throughout 2019.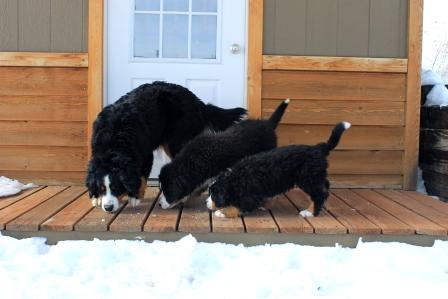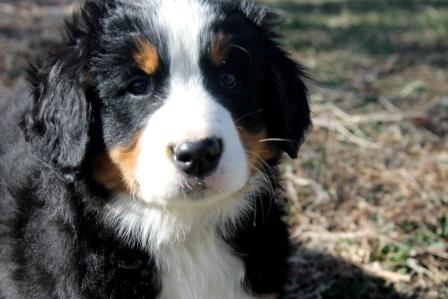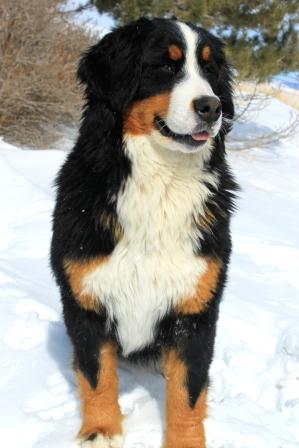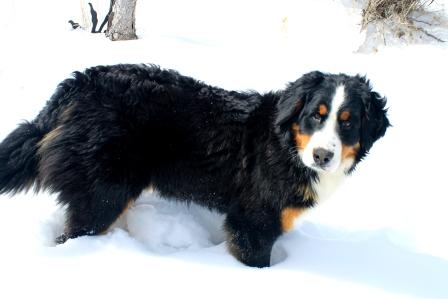 Reign, Scout & Swiss Missy
Reign's sire: Disaronno V.T' Rijenspark
(Netherlands) A.K.A. 'Archie' 406 Berners
Reign's dam: Big Sky's Breezy Day
Big Sky's Winter Reign
D.O.B. 02/20/2018
AKC # WS60113201
OFA Preliminary Tests
Scheduled for Summer 2019
Genetic Tests for DM & VWD
Clear by Parentage
Reign was born during the 2018 Winter Olympics, and that was the inspiration for her name! Reign is a very happy and silly girl! She's always so excited to see you that she never leaves your side. She has the thickest hair coat of any of our Berners; she's always ready for a winter excursion! And she loves to be your blanket, no matter the season!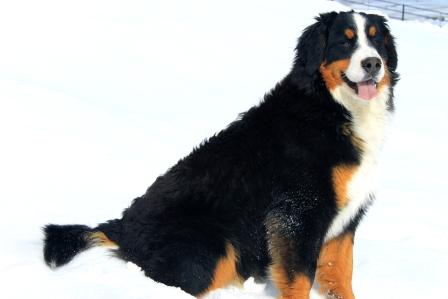 Scout's sire: Geronimo Vom Durrbachler Wald
(Netherlands)
Scout's dam: Big Sky's Madison River
Camping with Grandpa on his birthday!
West Yellowstone, Montana
August 2018
Big Sky's River Scout
D.O.B. 11/11/2018
AKC # WS62764201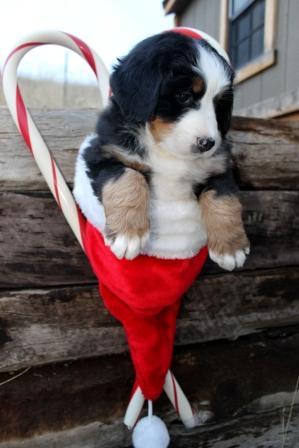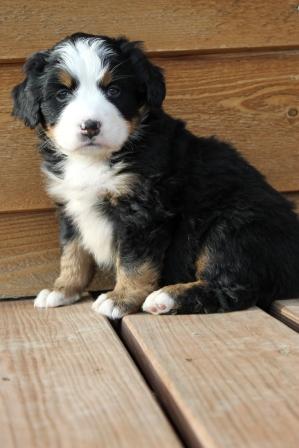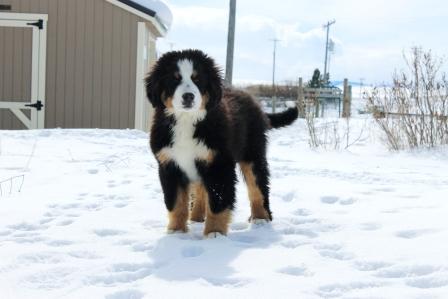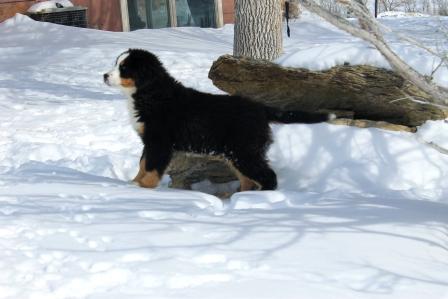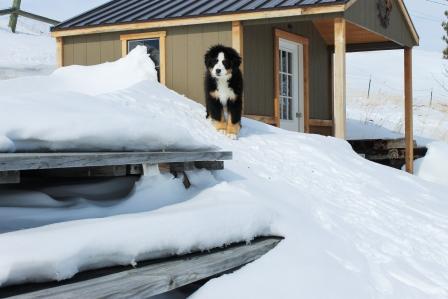 OFA Preliminary tests scheduled for early 2020
Genetic tests for DM & VWD
Clear by parentage
Scout is a pride and joy to behold! She was born on Veterans Day 100 year anniversary of The Armistice. Scout is our 1st Bernese Mountain Dog with direct European heritage from both parents. She is extremely sensitive and sweet! She walks behind you as close as your shadow. Sometimes you need a double-take to spot her at the backside of your feet. She is a quiet tracker - the Perfect Scout!

Swissy's sire: Geronimo Vom Durrbachler Wald
(Netherlands)
Swissy's Dam: Big Sky's Burning Ember
Swissy is the youngest in our pack and joined us when she was 8 weeks old. She's large for her age and very outgoing! When she plays with her 1/2 sister Scout, they are like Yin & Yang! Swissy charges ahead and leads the way and she's eager to investigate everything! She is not shy at all, but still eager to please.  We recently took her on her 1st camping trip to Yellowstone National Park, and she couldn't wait to meet everyone in the Mammoth Campground!
Swiss Missy
Big Sky's Swiss Missy
D.O.B. 01/12/2019
AKC # WS63639301