Beaux 
Mr. Beaux Jangles of Jawbone Creek
 1/18/2009 - 6/16/2017
       AKC Registration # WS29132805
Our Males
Big Sky's Rocky Mountain Bandit
D.O.B. 11/30/2015
AKC Registration # WS52244908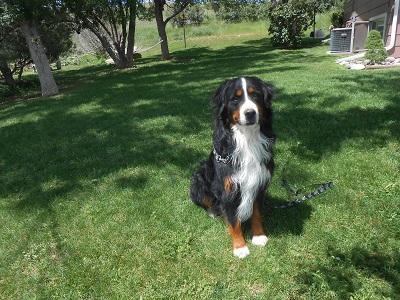 Geronimo Vom Durrbachler Wald (Netherlands)
D.O.B.  05/10/2015
AKC Registration # WS51521403
Berner-Garde # 130002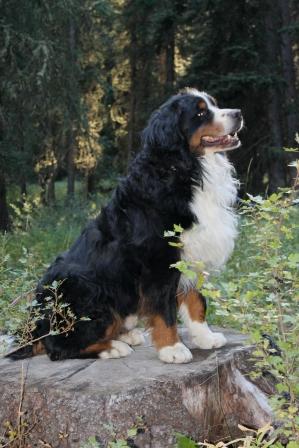 Meet Geronimo - our new stud! He joined our pack in Fall 2018, and we couldn't be happier! He fit right in immediately! Our girls were enamored with him from the very first introductions! He gets along with everyone and everything! We are so extremely grateful to Tori & 406 Berners for giving us the opportunity to purchase him. Geronimo was whelped in the Netherlands and has an impeccable pedigree. His health screens are there to match. 
Hips - Penn-hip rating 90% +/Excellent
Elbows - Preliminary OFA screen/clear
Eyes - OFA clear/normal
Cardiac test - normal
DM - clear
VWD - clear
To see more about his heritage visit
http://www.vomdurrbachlerwald.com/
Geronimo is currently available for stud service. 
Potential breeding programs and individual females must be pre-approved and have acceptable health screens & test results. A brucellosis test is mandatory prior to natural breeding. The Stud fee is $2,500 and due at the time of service. A successful stud service will result in the live birth of 3 or more puppies. Stud fee is non-refundable, however if the mating does not take the female may be re-bred at no charge (multiple times if necessary), or owner may use $2,500 credit towards the selection of a future pup. Please call for additional information (406) 632-4620 Voice mail. (land line/no text messages)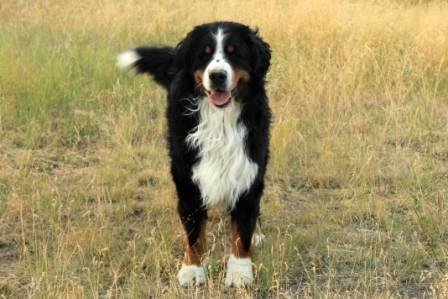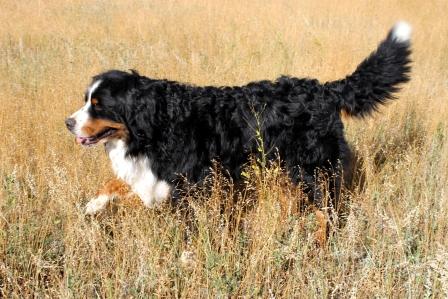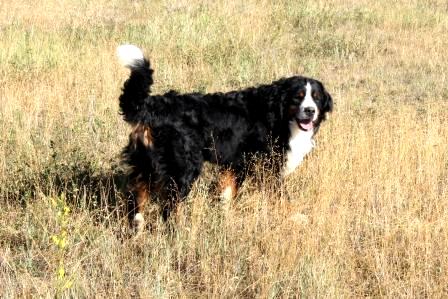 Rocky originally came to us as a 3 month old pup from Ohio! Rocky quickly grew into his large paws. He never tired of the open space or pack play in the dog park! He is strong and energetic, and at the same time, he's goofy and wants to fetch his toy ball (his favorite reward). Our initial intent was to use Rocky as a long term stud and diversify our Bernese Mountain Dog bloodline, with the hopes of strengthening the breed. Then one day in the Fall of 2017 we received a phone call out of the blue. A special lady was looking for an adult Berner as a rescue dog and companion. She had searched various Bernese rescue centers, and hadn't found the right match. When she described what she hoped for, we felt that Rocky might actually be the one, so we decided to meet. Rocky not only clicked with her, but he paired up right away with her other dog Troy! It seemed to us that Rocky truly met his Guardian Angel! And so he began a new chapter. We had Rocky neutered prior to his moving to Western Montana. We receive regular updates about Rocky's daily adventures and couldn't be happier for the trio! It was all such a surprise.....and we treasure our new friendship with Rocky's Lady!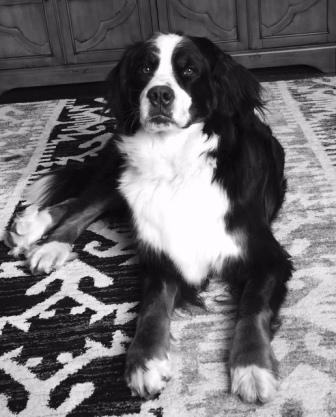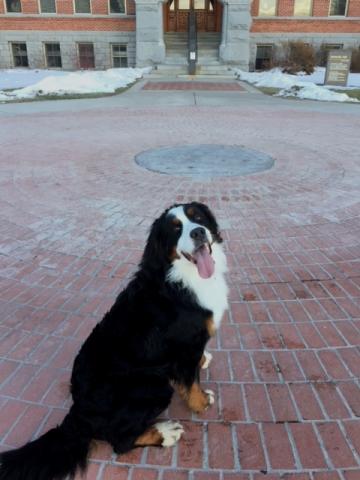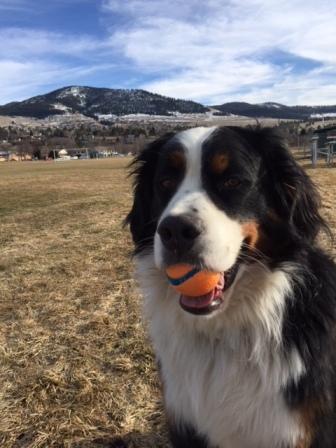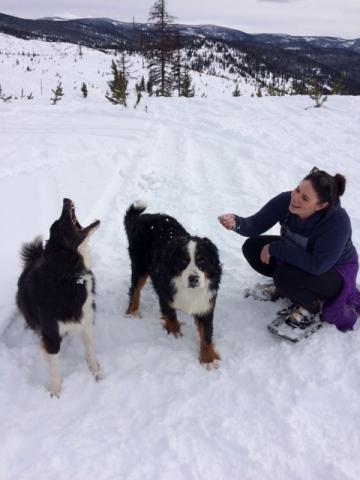 Rocky's Pictorial Updates!
Lovin' Life
 & 
Livin' Large!

Our beloved Beaux! He was our very 1st Bernese (born in Wyoming), and will always have a special place in our hearts. He was the 1st (and only) that we've had to say good-bye to forever. Beaux traveled with us through many western states and watched our children grow. He was with us in Zion National Park when our oldest son Phoenix (now 10 years old) learned how to walk. He traveled with us to our Mt. Baldy cabin, traversed the streets of the Bay Area, Corvallis OR, and countless others! The most memorable experience perhaps was during the early morning hours in Norris campground (Yellowstone National Park) when Beaux had a surprise encounter with a Grizzly Bear at close range! Beaux's gentle demenor (and the human's 'calm-assertive' stance who was walking him) fortunately made the situation 'uneventful'. (After that however, we ALWAYS carry multiple cans of bear-spray, even in the 'front-country'!)...The years go by too fast and it feels like Beaux left us too soon. He was 8 1/2 years old when he couldn't make it any longer. We tearfully paid our respects as a family on that heart-breakng day in June 2017 when we had to make that decision that nobody wants to make. Beaux is gone but not forgotten. We can still see him in his daughter Breezy's eyes, along with his grand-daughter Reign's eyes! We love them all very much!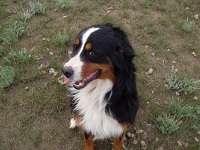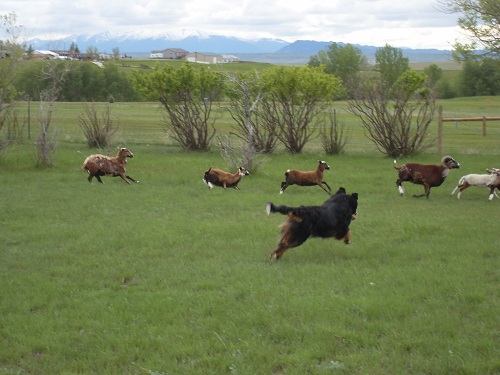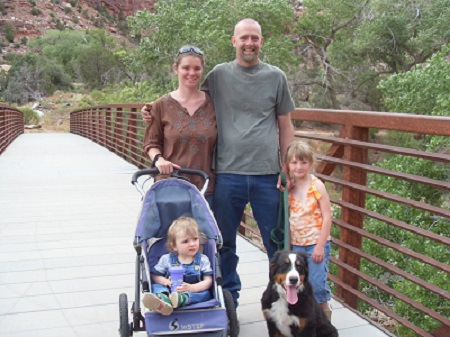 Archie
Disaronno V.'T Rijkenspark
(Netherlands)
D.O.B 05/08/2015
AKC  Registration #WS52654101
Berner Garde #130003 
Owned by 406 Berners  
Health Screens - Officially Great!
Hips - Penn-hip test 80% + Good
Elbows - OFA Preliminary Clear
Eyes - OFA Normal
Heart - Normal
DM - Clear
VwD - Clear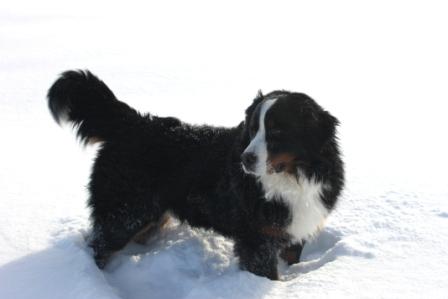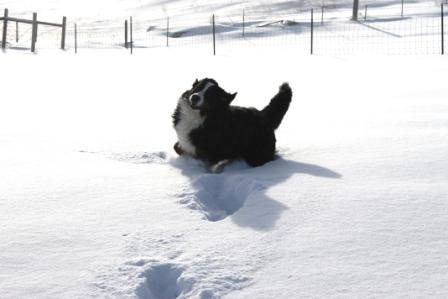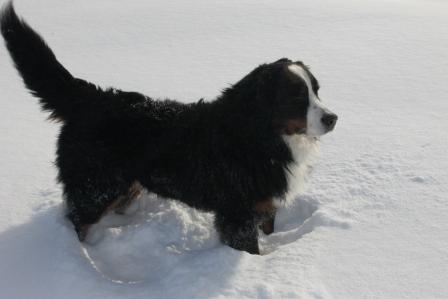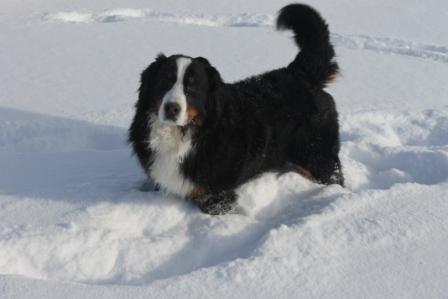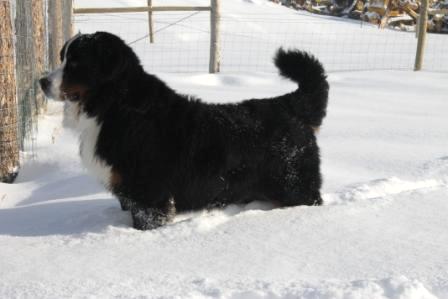 Archie, as we all know him, is a charismatic Berner! Archie is frequently seen at Showdown, MT ski area where we were first introduced to him as a puppy. We currently have 2 offspring from his stud services, Madison (2 1/2 years old) and Reign (1 1/2 years old). We are totally delighted!